Polipol Island in Bani Pangasinan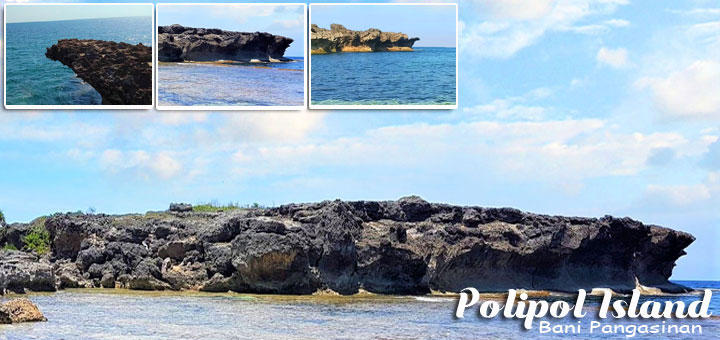 Polipol Island is one of the most popular tourist destinations Bani Pangasinan. It is just 5 minutes away from Alicupen Beach and 15 minutes away from Patar Beach in Bolinao through motorboat ride.
Amuse yourself with nature, Polipol Island has lots of stunning scenery. It is also a perfect spot for sunset watching. This little paradise became popular because of its natural beauty and its cliff jumping activities. You can cliff jumping as high as 15 feet and the fossilized clams on top of the island also makes it special.
You can visit Polipol Island any month of the year but the best time to visit is during Summer (March to April).
Contact Details:
Location: Barangay Centro Toma, Surip, Bani Pangasinan
Phone: (075) 632-8562
Mobile: 0928-244-5119
Facebook: Bani Tourism Office

Location Map:
Polipol Island Tour Rates
Entrance Fee – Free
Environmental Fee Php. 30 / pax
Boat Tour going to the Island – Php. 1,500 / good for 6 pax
Activities in Polipol Island
Cliff Jumping
Polipol Island became popular because of the beautiful beach, spectacular sceneries, good sunset watching spot and cliff diving activities. You must try cliff jumping as high as 15 feet at Polipol Island.
Swimming
Like most beaches in Pangasinan, Polipol Island have crystal clear water which is best for swimming. Although the island is surrounded by rocks and sea grass, there are some areas where there is a white sand which is suitable in swimming.
Snorkeling
Bring with you your snorkel, because the water in Polipol Island is crystal clear which is good for snorkeling. You will enjoy to see fishes swimming around, you can also collect Caulerpa lentillifera (Arorosep in Bolinao or Lato in different Languages). It is a species of bryopsidale green algae. This seaweed is one of the favored species of edible Caulerpa due to its soft and succulent texture.
Fishing
Fishing in Polipol Island is allowed. Fishing is one of good activities in the Island. Fishing rod and line is best for shallow waters. The Island is surrounded by of rocks formations and coral reef. Sea grass and Sargassum are also abundant in the Island which serves several benefits to marine life, providing food, refuge, and breeding grounds to much fishes in the area.
Taking selfies
Polipol Island is an island of picture-perfect scenery. Take photos of stunning sceneries while you in the motorboat going to the Island. And don't forget to take your selfie when you arrived at the island.
*Notes:
There is no entrance fee in Polipol Island.
Bring Food, snacks and bottled water (there is no big stores in the island).
Travel with a group of friends to save more money. Motorboat Rentals are expensive.
Bring Plastic Bag for your belongings or zip-lock for your phone and other gadgets.
Bring Sunblock (specially during summer).

How to get to Polipol Island

There are several ways to get to Polipol Island, You can ride a motorboat from Olanen Beach or Surip Beach in Bani Pangasinan or from Patar Beach Bolinao Pangasinan.

How to get to Polipol Island By your own Car
If you are using a car just use Waze or Google Map and pin Polipol Island.

Take NLEx/E1/R-8 and N Luzon W Expy to M.H. Del Pilar St
Paniqui – Camiling Roadd in Paniqui 2 h 2 min (148 km)
Turn left onto M.H. Del Pilar St
Paniqui – Camiling Road
Continue to follow Paniqui – Camiling Road 29 min (19.7 km)
Follow Romulo Highway
Tarlac – Pangasinan Road
Olongapo – Bugallon Rd to Alaminos 1 h 37 min (77.8 km)
Take Alaminos – Bani Road
Bani Road Regional Hwy 5 – Tiep Barangay Hall

From Tiep Barangay Hall to Surip Beach

From Tiep Barangay Hall (Junction) turn left.
Head northeast on Regional Hwy 5 toward Toma-Colayo Townline
Turn left onto Toma-Colayo Townline
Colayo Toma Townline turns slightly right and becomes Colayo-Toma Towline
Turn right onto Centro Toma – Dacap Sur Road
Continue straight onto Surip Road
Turn left to stay on Surip Road
From Surip Beach, hire a motorboat going to Polipol Island.

From Tiep Barangay Hall to Olanen Beach

Head northeast on Regional Hwy 5 toward Toma-Colayo Townline
Turn left onto Toma-Colayo Townline
Turn left onto Colayo Toma Townline
Colayo Toma Townline turns slightly right and becomes Colayo-Toma Towline
Turn left onto Centro Toma – Dacap Sur Road
Continue straight onto Burubor-Olanen Road
Turn right to stay on Burubor-Olanen Road
From Olanen Beach, hire a motorboat going to Polipol Island

Via Bus
How to get to Polipol Island from Manila Via Bolinao or Alaminos City Pangasinan

From manila Bus Station (Cubao or Pasay) ride a bus to Bolinao Pangasinan. Travel time roughly 6 hours.You may take Victory Liner Bus or Five Star Bus.
Tell the driver to drop you off at Tiep Barangay Hall (Bani Pangasinan). (From Manila riding a bus going to Bolinao and drop you off at Tiep Barangay Hall is more convenient for commuters but just in case there's no available bus direct trips to Bolinao, you can get a bus going to Alaminos City Pangasinan and ride a minibus or van in front of CSI Mall Alaminos Branch and tell the driver to drop you off at Tiep Barangay Hall.)
From Tiep Barangay Hall, hire a tricycle going to Olanen or Surip beach.
From Olanen Beach or Surip beach hire a motorboat going to the island.

Victory Liner Bus Contact Details:
Address: 683 EDSA, Cubao, Quezon City 915054
Phone Number: (02)727-4688 / (02)410-8956 / (02)727-4534

Five Star BUS Contact Details:
Address: 2240 Aurora Blvd, Malibay, Pasay, Metro Manila, Philippines
Phone Numbers:
Pasay : 853-4772 / 851-6614 / 851-6659
Cubao : 911-7359 / 421-4716 / 421-4717 / 2927.712.4349 / 0943.706.5083

How to get to Polipol Island Via Boat From Patar Beach Bolinao

There are several boatman in Patar Beach Bolinao who are offering boat tour going to Polipol Island.
You can see these Small Boats with a sun shade and life vest at Patar White Beach or in the beachfront of your resorts in Patar Beach Bolinao.
They carry a laminated Pamphlet showing pictures of Polipol Island, activities in Polipol Island and other attractions nearby. The price is usually Php. 1500 for 6 pax but you can negotiate to the driver to lower the price. It takes about 15-minute boat ride from Patar Beach to Polipol Island. The Boat Tour takes 2 hours, enough to do all the activities you want to experience in Polipol Island.

Tourist Attractions in Bani Pangasinan:

Olanen Beach
Tubong Beach
Licupen Beach
Surip Beach
Polipol Island
Surip Cave
Nalsoc Cave
Abot Aso Cave
Nangadiyan Cave
Dumaloy Cave
Baliwangga Falls
Busay Falls
Surip Pilgrimage (Reedemer's Cross)
Bangrin Mangrove Protected Area (Birdwatching Site)

Nearby Places to Stay

Oldwoods by the Sea Nature Resort
Hide Away Sea and Beach Resort
Surip Mountain Beach Resort

NOTES TO TOURISTS & TRAVELERS

Be Responsible.
Don't leave your trash everywhere.
DO NOT TOUCH the marine life.
DO NOT STEP on the corals!
DO not take seashells from the beach.
Be Courteous to the locals.
DO Respect other people's privacy.
Don't forget to have fun!

LEAVE NOTHING BUT FOOTPRINTS. TAKE NOTHING BUT PICTURES. KILL NOTHING BUT TIME.

Polipol Island in Bani Pangasinan Photo