Aquatica Marina Water Park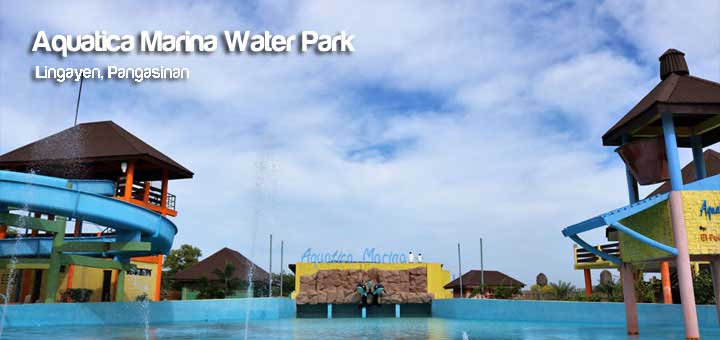 Aquatica Marina Waterpark is a hidden paradise nestled in the Lingayen Gulf coast. Its clear blue sea gently rolls on the powdery volcanic sand which reflects the sun's warming rays like glittering gold-like particles on the shore.
Where you desire water sports activities, lazing by the pool, dozing by the beach, or rejuvenating yourself with a soothing massage at their Asian fusing spa.
Aquatica Marina caters to your every craving vacation fantasies. They truly are the dream vacation destination proving an experience you will want to relive again and again.
The waterpark, is, well, a huge waterpark, and offered a huge variety of twisted slides. From thrill seekers to mild riders, there is a slide for everyone. Kids can swim and play at this child-friendly pool where an interactive playground set at the center provides hours of enjoyment.
Get soaked at Aquatica Marina Water Park's Giant Bucket!
Aquatica Marina Waterpark is maintained by El Puerto Marina Beach Resort and Vacation Club.
Contact Details
Location: Don Martin Domingo St., Pangapisan North, Lingayen, Pangasinan
Business Hours: Open from Monday to Friday – 9:00 A.M. to 7:00 P.M.
Phone (Lingayen Office): +632.775.6789/+(075) 632.5769
Phone (Metro Manila Sales Office): (02) 631.5680/+63.917.816.7810/+63.918.951.5402
Phone (Aquatica Marina): +63.917.816.7759/+63.927.122.9036/+63.947.467.0278
Email: inquiries@elpuertomarina.com
Website: http://www.elpuertomarina.com/
Facebook: https://www.facebook.com/aquaticamarina/

Location Map
Rates
Entrance Fee:
Adult & kids 4 feet above – Php 285
Kids 4 feet below – Php 260
Cottages
Small Cottage (Good for 5 persons) – Php 350
Medium Cottage (Good for 8 to 10 persons) Php 650
Large Cottage (Good for 20 to 30 perons) Php 2,500
Swimming Attire
Swim suits and swimming trucks
Shorts without pockets and zipper
Light colored sando and t-shirts
No maong shorts or long pants
Facilities & Services
Air-conditioned hotel rooms & cottages
Spa
Restaurant
Bar
Jacucci
Skim Boarding – Php 250
Surf Boarding – Php 250
Banana Boat 3 rounds – Php 3,000
Frisbees
Fishing Alley
Beach Huts
Beach Volleyball
Bonfire on Beach
Videoke
Billiards
Darts
Boardgames
Photos
Rules and Regulation
Allowed to bring-in foods except alcoholic drinks, shell foods like shrimp, prawns, crabs, oysters and the like.
All breakable items are not allowed to be brought in instead use disposable plates and cups.
Pets are not allowed