Treasures of Bolinao Beach Resort and Hotel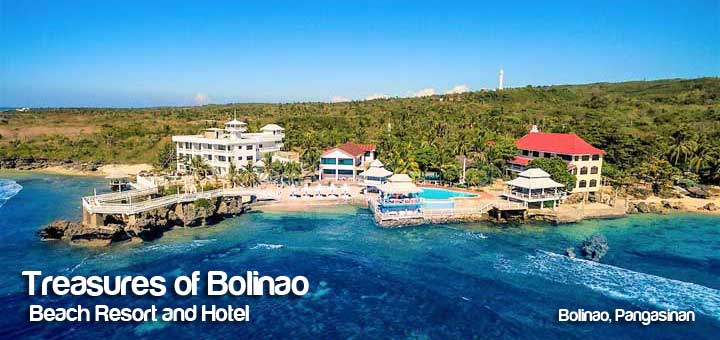 Treasures of Bolinao Beach Resort derived its name from the site of the main house which is sitting in the coral surrounded by the tranquility of nature. It is located in the heart of Cape Bolinao white beach, and the very first one in Bolinao that was accredited by Department of Tourism.
Treasures is overlooking the seemingly boundless West Philippine Sea. The best place for sunset view. The water is so clean as you can see the crystal clear water with a rejuvenating power. Just behind the resort is the towering Cape Bolinao Lighthouse. On the left is the Patar beach and in the background the rolling hills endowed with various fauna and flora. On the right the various sculpture like monuments of rock formations. All these locations are facing west so everyone can see the colors of the sunset.
The central Pool has kiddie Area and the infinity Pool is next to the sea. It also have poolside bar & restaurant which offers filipino dishes. Activities like billiard & volleyball are free for checked-in guest. And Free WiFi in the lobby.
Contact Details
Location: Patar, Bolinao, Pangasinan
Phone: +63-75-696-3266 / +63-02-413-4914
Mobiles: +63-908-853-0000 / +63-999-888-0123 / +63-999-990-5171 / +63-999-990-5181 / +63-921-564-2408
Website: http://treasuresofbolinao.com/
Facebook: https://www.facebook.com/Treasures-of-Bolinao-Beach-Resort-and-Hotel-1484395741572058/

Map Location
Rates
To see their latest room rates and for reservation click here.
Photos